Introducing Merrily Handcrafted!
Our new line of handmade baskets, trays and totes are lovingly made by Merrily owner, Kat.
Each is individually crocheted one stitch at a time using sustainable 100% recycled cotton cord and come with a certificate of authenticity.
An ever changing selection can be found in our Sugar Loaf shop, but stay tuned for the product drop when we will have a special collection available to purchase online.
Merrily Handcrafted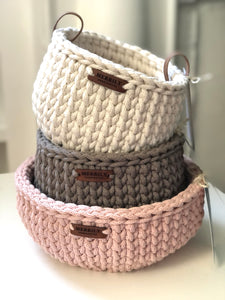 The Merrily Shop
1375 Kings Highway
Sugar Loaf, New York
11 am - 5 pm
Thursday
Friday
Saturday + Sunday